Although with new technology meetings can now take place via the internet, many people still prefer not to be faceless and meet their colleagues in person, making travel and staying away on business a necessity and a much friendlier and pleasant experience.
There has been a huge rise in the demand for serviced apartments, this style of corporate and temporary housing is increasing in popularity. Many guests now preferring to experience a home-from-home environment rather than a hotel room.
A real home-from-home stay
Home comforts are on offer in a serviced apartment and business travellers are able to prepare their favourite meals and eat at a convenient time with no time restrictions. Each apartment has a dining area so there is no need to sit cramped on a hotel bed with a take-away.
The dining table is also a great place to work from meaning you can spread yourself out and there is no need to tidy away when you need to go to sleep.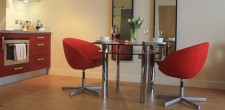 Free Technology
With business travel the internet is a necessity and each serviced apartment is equipped with FREE 24 hour wi-fi, a dvd player, i-Pod dock and Sky. There are no additional charges which is a real cost-saving.
Free Parking
Why experience the inconvenience of popping out late at night or in the early hours to top up the car parking meter? All of our serviced apartments have a FREE allocated secure parking bay which is for the sole use of the guest during their stay.
Central Locations
Many overseas visitors rely on public transport or being able to walk to their office. With city centre locations, public transport is on the doorstep and frequent.
Shopping whether it be for groceries or gifts is a pleasure as stores are just a couple of minutes walk away.
Cost Savings
The great thing about a serviced apartment is that it is priced per apartment and not per room, so this style of 2 or 3 bed accommodation means sharing reduces the nightly rental dramatically. Also the longer the stay the lower the rate.
If you currently use hotels in Milton Keynes and Bedford but are thinking of trying serviced apartments, please do call our office +44 (0) 1908 664 516 to discuss your requirements and our friendly and knowledgeable team will assist. Or just drop us an e-mail on info@citystayaparts.com.
Offers
Offers mean more savings, so why not keep in touch by following us on twitter @CityStayApartMK or like us on Facebook https://www.facebook.com/CityStayApartmentsMK to catch up on our current savings or simply visit our website http://citystayaparts.com/offers/