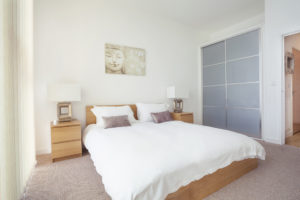 That's right, we've just taken on another new serviced apartment in Milton Keynes and this one is in a whole new location – Charter House. It's great news for us as we are always looking to add more serviced apartments in the area.
The Serviced Apartment
This spacious serviced apartment has 2 bedrooms and 1 bathroom, perfect for a small family, or someone who wants more space than a 1 bed. The interior and exterior are superb, a luxury fully equipped kitchen ready for breakfast, lunch and dinner, a lounge with Sky Sports and Movies and free Wifi which will persuade you to stay in rather than venture out!
As with all our serviced apartments, the individuality really comes out. This fully air-conditioned new serviced apartment is the perfect room to rent!
The Location
There is an ocean of things to do around this serviced apartment, from taking a trip to theatre, eating out in one of the great restaurants Milton Keynes has to offer or taking advantage of the amazing shopping centre right on your doorstep. In fact, there are so many things nearby we will be surprised if you manage to fit them all in during your stay!
The shopping centre is really on your doorstep with this serviced apartment. It has a wide-range of shops for all your needs and desires, from John Lewis to H&M, there are shops for everyone!
If you are a bit of an adrenaline junky then there is Xscape also not far away, here you can take to the slopes or even indoor skydive. Here there are a number or restaurants and bars available to eat out or have a few cocktails. The choice is yours!
Why Us?
City Stay Apartments are the perfect choice for your next stay in Milton Keynes. We have a friendly team ready and waiting to answer any queries you may have. We pride ourselves on great customer service. We also put a lot of time and effort in to make your stay with us extra comfortable, from putting in luxury fixtures and fittings to helping you pick the perfect serviced apartment.
Pictures coming soon!