Serviced Apartments provide the services and convenience of a hotel with a welcoming setting, that allows a guest to settle in comfortably and make themselves at home.
The main things travellers look for when staying away from home are:
A safe environment.

Good value for money.

Up to date technology.

A fully furnished apartment with full cooking and laundering facilities.

No hidden costs.

Secure private parking.

Full facilities near-by.

A relaxing, homely environment.
A serviced apartment provides a positive answer to all of the above, and more!
If you have to stay away from home when working on a long term project or just require accommodation Monday to Thursday, staying in a serviced apartment offers far more of a home-from-home feel than a hotel.
Many serviced apartments have a 24 hour concierge desk to personally hand over keys, and each apartment has a spy-hole front door, double locks and an intercom with screen allowing you to see who's calling you.
There are no hidden costs, inclusive with the reservation is a complete home entertainment system of broadband, Sky sports and movies, dvd and i-Pod dock. Private parking and a weekly housemaid service, who cleans the apartment and refreshes the bed linen and towels, are also included in the nightly rental. Nothing will be added to your bill for eating out and laundering, as the fully fitted kitchens mean everything can be done in the comfort of your own apartment.
Most are centrally located with gyms and supermarkets close-by, together with cafes, bars and restaurants just a short walk away.
There is a growing trend for guests to look for accommodation that makes them feel at home and safe. Statistics tell the story, with occupancies in the UK reaching an average 88.6% in Q3, 2014 according to the figures supplies from the Association of Serviced Apartment Providers (ASAP).
ASAP has also launched a Serviced Apartment Kite-mark assuring guests that apartments have been independently assessed and that the operator is quality accredited, giving guest reassurance. We are proud to belong and have achieved high marks in all categories of the Accreditation.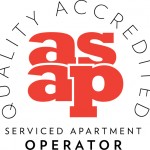 Flexibility is also key when staying away. Stays in a serviced apartment can be extremely flexible when residing in this style of luxury corporate accommodation. From a minimum of 2 nights to many months; most discount rates for longer stays and VAT also reduces to just 4% after a continuous 28 night stay. There are no time restrictions, many just request 7 days notice prior to final departure, so if a work contract ends early guests will not have to pay for accommodation and services not used.