It's getting to that time of year when the weather gets warmer and everyone wants a cocktail!
Cocktails are great fun and the perfect way to enjoy an afternoon/evening in the sun! We've been talking in the office about our favourite cocktails to make at home, or in your serviced apartment, and here's what we've come up with:
Dark 'n' Stormy
This is a very simple cocktail to make and involved just 3 ingredients, dark rum, ginger beer and lime. It's 4 parts ginger beer to 2 parts rum, just mix that in with a squeeze of lime and make sure you use lots of ice! An easy and affordable cocktail that's great for relaxing this summer as an alternative to rum and coke.
Mojito
Grab yourself a rolling pin (or muddler), a tall glass and lots of ice - it's time to make the classic mojito. This white rum-based cocktail is a fabulous summer drink that's delightfully refreshing and easier than you think to make. Using your rolling pin, muddle 4 lime wedges together with 2 teaspoons of sugar, making sure all the lime juice comes out. With about 10 mint leaves in one hand, slap them with the other hand and then add them to the glass - this releases the aroma from the mint and will make a much better mojito. Give them a quick stir to combine them with the lime juice, then half-fill the glass with ice. Once this is done, add the white rum, about 2 shots (or 50ml) should be great, and then all you need to do is top up with soda water and give it a quick stir. Sit back, sip and enjoy!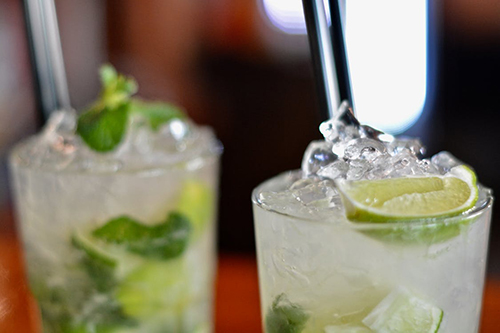 Lemonade Sangria
A fruity classic, sangria is usually made with orange juice, but in our opinion changing this to lemonade, makes it a lot more refreshing and much more enjoyable on a hot day. Fill your jug with a mix of ice, slices of apple and wedges of orange, and then top up with an equal mix of red wine and lemonade. Grab a couple of big wine glasses to pour it into and your away. If you want to make this a little more quirky, you can make it in a large Kilner jar, which is great for both presentation and for keeping fresh in the fridge.
Frosé
This slushy style cocktail was the biggest hit of summer 2016 and will no doubt be just as popular this year! It's a cocktail best made in advance as it needs a little work, but when it comes to a really hot day, having some of this ready to go will be a dream come true! To make this, start by freezing some Rose, we suggest a dry one. Then you need to make a strawberry mix by boiling some sugar and water to make a sugar syrup and adding in some chopped strawberries, strain this, and then mix with the frozen Rose (which won't be 100% solid due to the alcohol). You can keep it in the freezer ready for whenever you need it!
Where to go for cocktails in Milton Keynes
Milton Keynes is full of great places to go for cocktails, with a number of places often doing 2-4-1 deals. We suggest All Bar One, Be At One and Revolution de Cuba. All fabulous locations which often have offers on as well as a lively atmosphere!