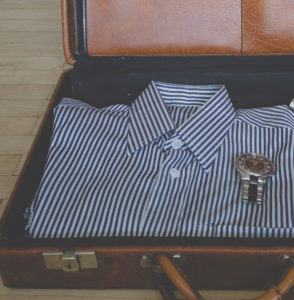 Staying in a serviced apartment for your short stay in Milton Keynes or Bedford is a no-brainer – but do you struggle to pack everything you need when you're going away? We've put together some tips on what to pack and how to pack for a corporate/pleasure stay with us!
1. Know what is included in your apartment!
When choosing a City Stay Apartment as your serviced apartment in Milton Keynes then you know you're going to get more than the basics when you arrive. You've got no need to worry about towels or bed linen and certain other necessities are also included. When you book with us you can find out exactly what is included.
2. Roll, don't fold!
Rolling clothes helps to reduce the amount of air that folding clothes takes up, but also, there are no fold lines or creases so you'll have less hassle ironing when you get to your apartment for your short stay. If you want to take this to the extreme then you could also vacuum pack your rolled clothes to remove even more air and gives you even more space!
3. Cling-film your liquids!
There is nothing worse than leaky bottles in your suitcase, but not everything fits in a sandwich bag so wrap them in Cling-film instead!
4. Food!
If you're arriving late then not having food in could be a bit of a hassle – even though there are nearby supermarkets. To save a bit of hassle why not pack away some essentials. Remember, there is loads of storage space in our apartments so you can bring as many bags as you like!
5. Unpack!
The whole point of choosing a serviced apartment for your short stay in Milton Keynes is that it feels like home – leaving clothes in your suitcase won't help with this, so unpacking is a must in our opinion! There is loads of space and no need to pack coat hangers!
We hope these packing tips help with your short stay in Milton Keynes!