It's expected that the UK will take in a record number of tourists in 2016 according to VisitBritain.
We've seen a rise in the amount of tourists coming to the UK in the last few years, and in 2016 we can expect to see around 36.7m oversea's visitors, and a high amount of these visitors will be looking for somewhere to stay.
As you can see from this graph, visits from oversea's visitors has grown a lot and is expected to rise even further in the future.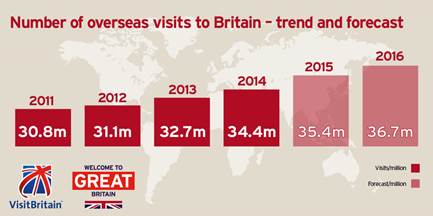 *Image source – VisitBritian.
What is more, these tourists are expected to spend a lot more too – around £22 Billion. This is great news for the country, local and national businesses who count on some of this money.
But why is Britain becoming more and more popular?
– Heritage and Culture – Britain and Milton Keynes is full of heritage and culture, from Buckingham Palace in the London to Bletchley Park more local to us.
– Food – Britain has such a wide range of restaurants, street food and local eateries. Milton Keynes hosts some great restaurants too, one notable place to visit would be the brasserie at MK College, where some talented young chefs create all sorts of dishes to a very high standard.
– Countryside – The UK has countryside like no other country in the world, with rolling hills and lakes that visitors from oversea's love. You can't beat a walk in the countryside on your holiday to Milton Keynes or somewhere else in the country.
– Entertainment – from theatre productions in the West End to some of the World's best theme parks such as Thorpe Park and Alton Towers, Britain has no shortage of entertaining activities to keep you excited during your stay. Don't forget Milton Keynes has it's own Theatre District too!
If you're someone looking for accommodation in Milton Keynes, try and an alternative to hotels and stay with us!
Credit to theasap.org.uk for some of the original statements in this post.