St Patrick's Day is a day to release your inner Irish! There's a lot more to it than 4 leaf clovers and a glass of stout…
St Patrick's Day has come far since its creation in the 17th century to remember the death of St Patrick – 'a 5th-century Romano-British Christian missionary and bishop in Ireland.' And patron saint of Ireland. According to History.com 'What began as a religious feast day in the 17th century has evolved into a variety of festivals across the globe celebrating Irish culture with parades, special foods, music, dancing, and a whole lot of green.'. We couldn't agree more!
Top ways to celebrate St Patrick's Day:
Wear something green! Green is the colour to wear on St Patrick's Day, so whether you decide to wear something green to the office or perhaps when you head out a bit later to celebrate. This could be something simple like a green pair of socks, or you could be more adventurous and wear a green hat!
Irish Drinks – you can't go wrong with a Guinness in my opinion, however, if you are a bit impartial to that, why not try something different, maybe an Irish Cream, a maybe a baby Guinness cocktail. You could even try a black velvet – champagne and Guinness. Of course, whatever you decide, make sure you drink responsibly!
Music – Irish music is a unique, yet beautiful sound. It's a great way to feel that little bit more Irish on the day. Irish Folk music has recently picked up in the charts too with Ed Sheeran's Galway Girl!
Locally to Milton Keynes we have the annual St Patrick's Day march in Bletchley. This year it is happening on Saturday 18th March. A great event with lots of Irish music and dressing up.
Whatever you decide to do, make sure you take advantage of our special St Patrick's Day offer: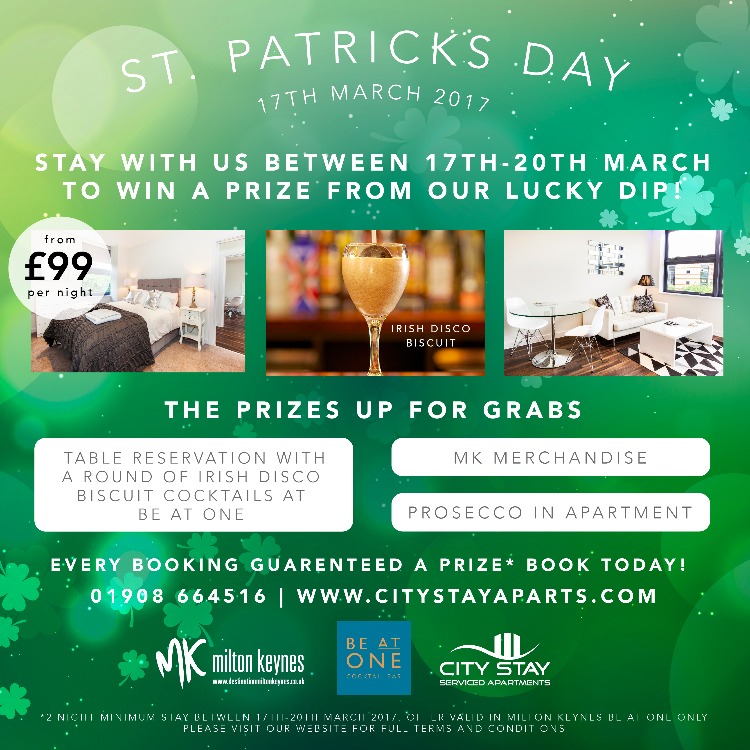 Ref:
https://en.wikipedia.org/wiki/Saint_Patrick's_Day#Saint_Patrick
http://www.history.com/topics/st-patricks-day
http://www.mkfm.com/events/event/231/