There is more good news for us and you here at City Stay Apartments in Milton Keynes! We've been classed as a tier one serviced apartment provider by SACO (the serviced apartment company)!
We've been speaking to Leila Wright (partner manager) from SACO to find out exactly what this means for you and for us!
Here's what she had to say:
What is SACO and why should people book through SACO?
"SACO is The Serviced Apartment Company, we're a UK provider of serviced apartments with an extensive network of SACO-operated and Partner properties in cities all around the world. We've been championing serviced apartments as a better way to stay away for 18 years and now businesses of all sizes come to us for our consistency, knowledge, experience and outstanding customer service.
Our extensive portfolio includes Partner properties around the globe, all of which have been carefully selected and qualified by our dedicated Partner Team; meaning that we can be a one-stop shop for many corporate clients with global requirements. We pride ourselves on excellent customer service and expertise, so both our clients and Partners can be confident in SACO's ability to be the best in the industry."
What makes serviced apartments so good compared to hotels?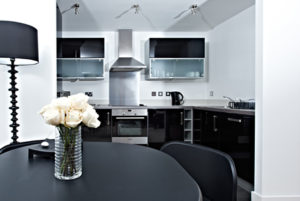 "Being someone who had never stayed in a serviced apartment before working at SACO, I can safely say that I would always choose to stay in an apartment over a hotel.
Most importantly, you get so much more than you would with a hotel and they're great for both corporate and leisure guests. Space to relax, a place to cook and entertain and somewhere to call home when away for a longer period of time (plus, the rates are much more competitive) are all much more appealing than a hotel room. The industry is growing rapidly and more and more people are becoming aware of – and being converted to – using serviced apartments. Once you've tried one, that's it!"
What do SACO look for in their Partners?
"SACO carefully selects its Partners based on many factors, such as mirroring our terms and conditions, meeting response times, suitability of location and style of apartments, a dedicated contact to build a successful partnership on, competitive rates and – last but not least – those with the same values, ethos and desires as SACO, with a passion that serviced apartments offer a better way to stay away."
Could you explain your tier system and how it works?
"We rate our Partners from tier 1 – 4 in order to help us deliver the best service possible. Tier 1 Partners are our core partners where relationships and demand are strong."
What does it mean to become a tier one serviced apartment company with you?

"Our reservations team have access to a wealth of knowledge on our systems, of which the tiering is displayed clearly to them. They will use this in order to quickly and accurately identify which partners to contact for enquiries in certain locations, which is very useful in large cities such as London where our Partner portfolio is extensive. It's all about making the booking experience as smooth and valuable as possible for our customers and clients."
We are really proud to be in the top tier, which proves to us that all the hard work we are putting in with our serviced apartments is really working, including our customer service which are particularly happy about.